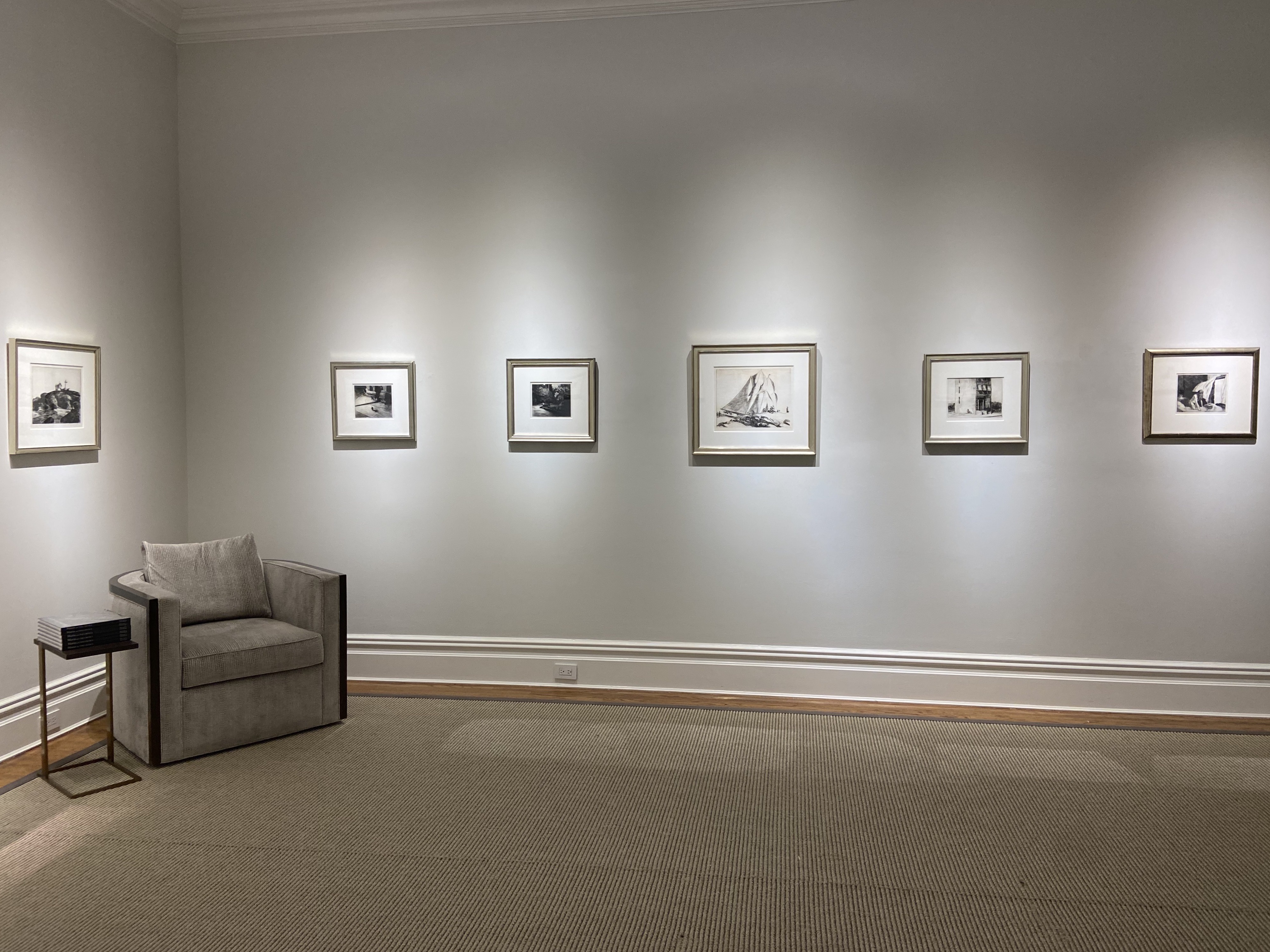 We welcome you to Menconi + Schoelkopf's Online Viewing Room of Edward Hopper's remarkable works on paper. The exhibition is perhaps the finest selection of the artist's works on paper for sale in more than 30 years.
Edward Hopper's initial fame grew out of his careful creation of large-scale oil paintings which are among the most iconic images of the 20th and 21st centuries. For many years of his career, Hopper created fewer than four important canvases and most were acquired by American museums from their initial exhibitions. Less well known is Hopper's creation of a greater number of watercolors, etchings, and drawings which are comfortably among the finest works on paper of the 20th century. Carol Troyen, curator of the important exhibition and publication of Edward Hopper's Watercolors, serves as guest scholar to the Menconi + Schoelkopf project. Carol offers articles on each of the important works in the exhibition and an illuminating essay on Hopper's printmaking. Hopper's prints are made in very small editions, and many of the images offered for sale here have not been on the market over the past decade.
Hopper took up printmaking in 1915, already a competent illustrator and accomplished draftsman. In the series of etchings made over an eight-year period, we see the artist's evolution into greatness. Hopper's sense of independence and his ability to tell the story of America between the wars remain the most compelling depictions of this country, equal to Orwell and Hitchcock. It was not until 1920 that Hopper enjoyed his first one-man exhibition, but the prints show clearly his coming of age and the impulse behind the successful development of his signature compositional format. The etchings also signify Hopper's important role in the evolution of modern art in America as the leading artists leapt forward from the more academic structure of figuration toward a more modern pictorial image. Hopper, Orwell, and Hitchcock are their generation's greatest thinkers and storytellers, and they still connect viscerally to this nation's sense of change in the first half of the 21st century.

With the creation of the 1920 etching American Landscape, we examine Hopper's initial push toward creating panoramic compositions as if directly off the movie screen. Hopper adored the cinema and often retreated to the dark isolation of movie watching to free up his creative process. Hopper's important canvases are so much part of our American experience that we take for granted that Nighthawks (1942, The Art Institute of Chicago) is lighted and composed in such a manner, but it is inviting to see his earlier moves in this direction. Three of the early etchings, namely Girl on a Bridge, East Side Interior, and Evening Wind, illustrate Hopper most at ease, sharing with the viewer private moments of modern solitude.
In a recent New Yorker article, the insightful Peter Schjeldahl, one of Hopper's most astute critics, connected these moments of quiet isolation with the current pandemic conditions suggesting that Hopper "leaves us alone with our own solitude, taking our breath away and not giving it back....Once you've seen a Hopper, it stays seen, lodged in your mind's eye. The reason, beyond exacting observation and authentic feeling, is an exceptional stylistic cleverness" ("Edward Hopper and American Solitude," The New Yorker, June 8-15, 2020). Schjeldahl puts his finger on something unusual about our experience of Edward Hopper; that among the stoic images of calm lonely unease, there is a note of optimism and sense of connection amid the separation.
Available Works

"In Night on the El Train of 1920, a couple intensely confront one another, engrossed in a serious discussion. Their twisted postures add to the tenseness of the drama. His fascination with male and female interaction persisted throughout his life and he later pursued it in paintings such as Summer Evening of 1947."

—Gail Levin, Edward Hopper: The Complete Prints, New York, 1979, p. 50

"While several early works were on zinc, Hopper used copper plates for most of his etchings, and he did most of his drypoints on zinc plates with the rest on copper. He originally did his own printing, with the notable exception of Night Shadows. Walter Tittle noted in his unpublished autobiography that Hopper obtained his press from the New York Banknote Company. It remained in his studio all his life, serving as a hat rack after he ceased making prints. He did not number his prints but produced them as needed. One hundred examples was his limit for each print, except Night Shadows, and he attempted to keep track of each in ledger books, one of which survives today"

—Gail Levin, Edward Hopper: The Complete Prints, New York, 1979, p. 20

"Hopper's involvement with the etching process probably enabled him to deal with compositional issues with a fresh intensity. Before he took up etching, he painted most of his early oils from nature, a process he continued after 1923 only in his watercolors. For several of his etchings, however, he invented his subject matter and composition in the studio, recalling scenes from memory or relying on his imagination. This process of creative improvisation, rather than working directly from his observations, served to refine his ideas into stronger and more consistent designs."

—Gail Levin, Edward Hopper: The Complete Prints, New York, 1979, p. 29

If you are interested in speaking with us directly about the available works, or would like to learn more about Edward Hopper, please do not hesitate to connect with Alana Ricca by phone call, to the gallery at (212) 879-8815, or by mobile at (203) 524-2694. We look forward to being in touch with you soon.